Low Self Esteem
Low self esteem means you don't think much about yourself.
You don't feel like you're worth anything.
You don't feel important.
WHY DO KIDS FEEL 'LOW' ABOUT THEMSELVES?
Picked on because of red hair and freckles
Parents or grownups yell at them
Always criticized at home or by family
No one encourages them
A teacher or coach made them feel stupid
Got embarrassed in the classroom or had bad grades
Maybe you already felt FINE about yourself but then.....
.....something negative happened and it changed how you feel about yourself:
Puberty – body is changing!
Gained or lost a lot of weight
Parents fight or divorced and feel it's your fault
Moved to new city and school, leaving friends behind
Started wearing glasses, braces, or bad hair day
Illness or injury
Understand that EVERYONE has probably felt like this at some time. Even adults.
Usually, as things change or other people encourage us, we feel better. You find out you're not the only one going through this. Talk to someone who cheers you up and can point out your good qualities. Our low self esteem gets better, and we feel good about ourselves again.
Check out books and videos at the library for free that make you laugh or inspire you. Get a new perspective.
When I was feeling pretty depressed a while
back, a friend gave me this little book, 'The Blue Day Book'. It helped give me a boost, a new perspective, cheered me up... the cute animal photos and captions are great and I hope this helps you too.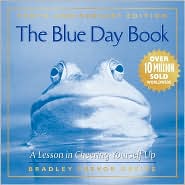 (at Barnes&Noble.com)
Build a BETTER BODY IMAGE to improve your low self esteem
Choose one thing about your body you like.
(Your great smile, your eye color, your petite size, your wonderful hair...yes, there IS something!)
Choose one thing about your body you would like to improve.
Would you like to be in better shape and healthier? Hate your curly hair? ... then change what you CAN change! If this is important, you can find the determination to set a goal and do it. Find a coach or friend who has accomplished something similar themselves to mentor you and help. Nothing will change unless you act. So, focus on doing something about it. Don't focus on how much you hate your nose or long arms (which you can't change!)

Appreciate your individuality - how unique you are!
We love that dogs come in all sizes and shapes. Cats too. Well, same for humans. Don't let pressure to look 'perfect' worry you and don't waste your time wishing you were taller, different eye color... What are your strongest physical assets and things you like that your body does? Appreciate this special 'wrapper' (your body). Appreciate the things your body does FOR you every day (walk, breathe, see colors, hear music...) and be thankful. Remember too, it's the person 'inside' the wrapper that's really important.

Don't get upset about what you can't change.
Appreciate your 'perceived flaws' and realize it what makes us all unique and interesting -- instead of cookie-cutter carbon copies. Learn to just laugh about things you may not like about yourself and later it isn't an issue any more (because we all have them and most people don't even notice or care!).

Appreciate, not envy others.
Do you admire how someone else looks? Instead of being jealous or making fun of them to make yourself feel better, compliment them! When you share complements with someone else, they feel better and you will too because that positive energy comes back to you! So, complement your friend with the great hair, or that guy with the great muscles. Soon, that low self esteem will get better and you'll feel good about your own body 'package' too...
(From article by author and eating disorder coach, Lori Hanson)
BE YOUR OWN BEST FRIEND...
Remember the saying "Love you neighbor as [you do] yourself" ??? (Actually a Bible verse -- Matthew 29 verse 39) Well, this doesn't mean to be stuck-up, selfish, or narcissistic...but assumes you first love yourself and care about yourself.
Be your own best friend. It's okay!
Become your own best friend?!! How?? Well, think about what you'd do or say to your own best friend or sweetheart....then say that to yourself. Some examples:
Respect your body's need to sleep, exercise, eat good nutritional foods, and avoid a lot of stress.
Be aware of unhealthy habits you've developed such as overeating, smoking, drinking, or drug use. You might even be engaging in risky behaviors and hurting your bodies by cutting, bingeing, purging, or shooting up drugs. Wouldn't you feel concern for someone you cared about? -- so feel the same for yourself. Seek help if you need it.
Listen carefully to your self-talk. Do you call yourself stupid or berate yourself if you make a mistake? You wouldn't tell your best friend they looked dumb or could accomplish something challenging, so don't do it to yourself. Don't make yourself your own enemy and nurture low self esteem by feeling guilty, focusing on your weaknesses, or telling yourself you aren't as good as someone else.

Reward yourself occasionally. It's not selfish to do something special for yourself such as relaxing or enjoyable activities. If you'd do it for a friend, do it for yourself. This helps nurture and refill your emotional and physical energy.
Balance immediate needs with long-term needs. This way you can enjoy the moment and also look forward to something special in the future.
The message here -- be good to yourself too, love who you are, take care of yourself. Become a best friend to yourself --- before you can help someone who needs you. Hopefully, you'll be able to help someone else with low self esteem
(Tips taken from mental health workers))
---
BUT......
Sometimes, if our low self-worth gets worse, the sadness worsens....
---- WE MIGHT NOTICE -----
| | | |
| --- | --- | --- |
| tantrums | new thumb-sucking | bed-wetting |
| clinging | worrying | always frowning |
| appetite changes | problems sleeping | headaches |
| abdominal pain | stealing | aggressive |
| skipping school | poor grades | attention problems |
| be alone alot | feel worthless | suicide talk |
| give away stuff | neglect appearance | drinking or drugs |
---
IF you are experiencing any of these symptoms
-- SEEK HELP --
You can get help from trusted grandparents, relatives, a parent, siblings, friends, pastors, mental health counselors, and school counselors.

DON'T WAIT!



---
Leave "Low Self Esteem" and go to "Home Page"

Go to "Self Esteem"

Go to "Teasing" main page

Go to "A Love Letter"