Interview With Marion Roach
I really enjoyed doing my interview with Marion...Since my website is a celebration of redheads and their giftings, she's a great example of this.
Talk about a talented and VERY busy lady!! As I learned more about her and the projects she's involved in, all I could think was how much energy and passion for life she must have!
Before we get to the interview below, I'll tell you a bit about her.
She's authored 3 books on different topics ('Another Name for Madness' about her mother's Alzheimer disease, and 'Dead Reckoning: The New Science of Catching Killers' which she co-authored with Michael Baden). Being a redhead herself, her book published in 2005 is about redheads called 'The Roots of Desire: The Myth, Meaning, and Sexual Power of Red Hair.'
Her passion for writing must be in her blood! She's an active writer and journalist as she's been a staff member of 'The New York Times,' contributed articles for top magazines, and a was columnist for 'Martha Stewart Living'. On top of all that, she's a commentator for National Public Radio, a radio essayist for Martha Stewart Living Radio, and teaches a popular memoir-writing workshop. She also has her own website www.marionroach.com...Plus she has a family too.
How does she find the time??
One of her fun projects I really enjoy visiting often is a something she co-founded with her sister, Margaret. It's called 'The Sister Project.'
This is a network of blogs, galleries, and other cool stuff that is really a community of sisters – women who have a common bond in different arenas of life. One of her very cool 'Sisterhoods' that she posts there is a blog 'A Sisterhood of Redheads' that you might enjoy checking out. I sure did!!
I admit I was thrilled when Marion initially found me and my website on redheads. So, I was delighted that she agreed to be interviewed and somehow managed to squeeze in the time to do it. I thoroughly enjoyed her replies, which gave me a few 'lightbulb moments' and chuckles as well....I love it!
Thanks again, Marion.
Well, sit back with your coffee and on to the interview questions........
---
---

1) Hi Marion,
Thank you for taking time out from your busy schedule to share with us and do the interview! Please take a moment and introduce yourself and tell us about you, your family, and how you ended up in NYC?
Though I was born and raised in NYC, I live in upstate New York now, and have lived here for 20 years. My husband is named Rex Smith. He is the editor and Vice President of the 'Times Union,' the daily newspaper in Albany, New York's capital. We have a 14-year-old daughter.

2) You've been involved in so many projects such as authoring several books, writing 'The Sister Project' blogs, teaching your 'Memoir Project' workshop, contributing articles to major magazines, being a radio commentator, and having a family life. How DO you balance all of this and order your day, as a parent, wife, professional?? What helps you?
I love this question. I live on a grid. I call it The Grid. It's a character in our lives, to some extent. Everyone makes fun of it, and I'm good with that. It's written on a large white board, sitting on my desk, right in view at all times, on which I have mapped out the seven days of the week. On it is written even the incidentals of life such as "walk the dog," and "stretch," as well as the truly important chunks of my life like "write," "meet the bus," "gym," as well as my three radio appearances each week.
My students tease me about it. My family says things like, "Am I on the grid?" ...and you know what? That's good. It works. If it's on the grid it will get done and I do not have to worry about it, instead freeing me to be creative without that horrid, "OH MY GOODNESS I HAVE NOT PAID THE BILLS!" thing. The bills, by the way, are paid Fridays from 7:30 AM to 8:30 AM. I highly recommend The Grid to all women.
Make sure those markers are erasable, though, since you've got to change it for after school sports seasons, writing assignments, and the like.
3) You've authored several books including your one about redheads: 'The Roots of Desire: The Myth, Meaning, and Sexual Power of Red Hair.... As a redhead yourself you obviously had an interest in learning more about the subject. What ONE thing surprised you the most about yourself or redheads in general that you discovered in the process of writing it?
That redheads need 20% more anesthesia than others. Actually, I was not surprised as much as delighted to have my suspicion confirmed since I have actually awakened during minor surgical procedures all my life.

4) As a redhead, did you get teased, and does it happen now or do you get rude questions? If so, how did/do you handle the teasing or attention? Did it affect your self-image and what advice can you give?
The teasing was fairly confusing as a kid, and in some ways I think prepared me to have a sense of humor about the awkward questions, as well as the attention that followed me as a young woman, walking the street of Manhattan when I was working at 'The New York Times.' Having men on the street shout out, "Hey, Red!" amused me, and I learned to turn and say, "How did you know my nickname?" I think humor helps enormously when you're a rare species like we are.
* * * * * * * * * * * * * * *
Marion and Margaret
5) On your blog 'The Sister Project' you have some wonderful topics and photos. I especially like the photos of you with your mom and older sister, Margaret. Among other topics, you talk about life growing up as a redhead. Did your sister Margaret (a brunette) feel that you got more attention than she did because of your red hair? And, what do you love most about her?
Feel? As in past tense? I still get more attention. And deserve it. HA! Just kidding. (Oh, those redheads, always the center of attention).
I love my sister because she'd get this joke. She's so comfortable with who she is. And I admire her enormously. I am the younger sister, and all our lives, every single thing she did, I wanted to do, as well. It could not have been easy having me breathing down her neck all her life, but she's very good to me. And calm. I am not calm. I'm, well, I'm a redhead.

6) Do you agree with the stereotypes that redheads have a different temperament? What would your husband or family members say about this? (agree or not)
I do have a very fiery temperament and my musings on this have always been of the chicken or egg variety: Was I told I would be fiery, and so became so, or am I truly fiery? I am a great blusher, and when younger it was really a dead giveaway. I remember thinking of it as "redhead's revenge." I could never conceal my emotions, even for a minute. There is an ancient tradition of story related to the bad red head, and I think we hear this so much that it in some part, at least, contributes to how we feel we are to behave.
Now, everyone else, mind you, thinks I'm fiery because I'm a redhead. No doubt in my mind, my husband included, whose job it is to travel with his finger in my collar, gently pulling me back in from my immediate, and not always moderate, responses to things..

7) You teach a writing workshop called the 'Memoir Project' at the Arts Center of the Capital Region in Troy, NY. Getting families to write memoirs/memories is a wonderful idea to strengthen family relationships. Why did you start this and how has this changed the families involved in the workshops?
'The Memoir Project' is a long-time-in-coming dream for me. It's actually an entire curriculum of memoir—personal essays, long-form memoir, memoir poetry, readings, screenplay, etc.,--in which I teach a class called 'Writing What You Know,' and have for more than 11 years to date to more than 600 students. I am very proud of the class and the program. Everyone has a story to tell. I genuinely believe that.

8) In your travels while doing research for your books or for job/family responsibilities, what's the most memorable place or person you've recently visited?
Edinburgh, Scotland, where I strolled for days in a virtual sea of redheads. They were everywhere I went, in large numbers. I actually giggled.

9) As a parent yourself, what one thing has surprised you the most about raising a child that you've learned on the journey so far??
That being wrong is not only okay, but that it is frequently the way I learn to be a better parent. Dead wrong so much of the time, I am amazed at the grace of this wondrous experience.

10) Thanks again for your time and doing the interview with us, Marion. For my last question, tell us what sparked your passion for journalism and writing to begin with? What fuels that passion and keeps you excited about what you do?
It's a passion that is delivered word by word. In writing, I learn.
......'THE END'......
---
---
Well....Now I want to visit Scotland, do some writing, make my own "Grid," and then call my sisters to tell them I love them!
Marion's witty insight and passion is a bit contagious I think. Some of her answers hit home for me concerning my own redhead daughters, and I hope as you've read the interview that you've learned something from her sharing as well.
My thanks again to Marion for taking time from her very busy schedule to indulge me in my many questions.
Again, her website links are:
www.thesisterproject.com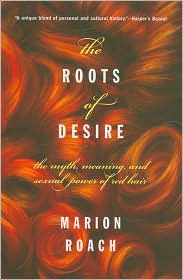 (click image - Barnes&Noble.com)
---

To my readers, let me know your thoughts on the interview.
Plus, if you have someone particular in mind you'd like me to chat with, drop me a note at my 'Contact Me' page. Thanks for stopping by...
Go to "Interviews" list - main page

Go to "Home Page"

Go to "Book Titles"

Go to "Famous Redheads" main page