Comic Book Characters
With Red Hair

Comic book characters take us into a wonderful world of fantasy and make-believe.
These colorful magazines are really just a story told by short comics with the characters' dialogue in word balloons. Some people call them funny books or comic magazine. Several got their start because they were just reprinted comic strips from the newspapers, eventually getting longer. Some of these stories and characters are more adult in their focus and themes, but the ones some of us grew up with were strictly funny and humorous.
Like a lot of people, I LOVED reading comic books growing up! Now so much is online or on the computer and DVDs. I wonder if kids are missing something by not just sitting down with a funny comic book? Hope yours get a chance to do just that.
Years ago, my own redheads especially loved the compact little 'Archie' comic books (Archie of course also being a redhead)! They had stacks of them...plus, they were great for trips and stocking stuffers.
There are actually several redhead comic book characters and I've listed a few below. Some are also cartoon characters, having their own animated TV cartoon series or movies, or appear in comic strips as well.
ARCHIE COMICS

-- Archie (Archie Andrews) - freckled, redhead teen; in alternate universe this comic book character is known as "Pureheart the Powerful"


-- Princess Sally Acorn - half squirrel and half chipmunk, in 'Sonic the Hedgehog' series
-- Knuckles - in Sonic the Hedgehog series

-- April O'Neil - originally a character from the Mirage Comics (with darker hair), April also later appeared in the 'Teenage Mutant Ninja Turtles Adventures' produced by Archie Comics. She and the TMNT also became popular cartoon characters. (Thanks to Julius!)

DELL COMICS

-- Woody the Woodpecker - redhead mischievous woodpecker
-- Howdy Doody - redhead, freckled marionette with his own TV show in the 1950s 'The Howdy Doody Show' and had a comic book too! Learn more about him on my "Puppets" page!

DC COMICS
-- Poison Ivy - one of Batman's villains with lovely red hair
-- Dr. Barbara "Babs" Gordon (a.k.a. Batgirl, Oracle) - this superheroine often portrayed as a redhead. Barbara Gordon was first seen as the daughter of Commissioner James Gordon in the Detective Comics. Known as 'Batgirl' from 1966 to 1988, then from 1989 was called 'Oracle.' (Thanks to Natalie from Brasil)
-- Lois Lane - this famous comic book character is Superman's girlfriend, and whose hair color varies....usually a brunette but has appeared as a redhead and even auburn
-- Jimmy Olsen - Superman's friend and boy reporter had red hair

-- Lana Lang - Clark Kent's (Superman) high-school sweetheart who lives next door to the Kent family farm and has been drawn as a redhead and in films
-- Yosemite Sam - from Looney Tunes and Merrie Melodies cartoons from Warner Bros. A colorful grouchy cowboy who hates Bugs Bunny. Huge red mustache and bushy eyebrows
-- Daphne Blake - from 'Scooby-Doo' appears as redhead and is also seen on the Cartoon Network version
-- Giganta - villain who fights against superhero 'Wonder Woman'
-- Tasmanian Devil - or known as 'Taz' and is from 'Looney Tunes' cartoons from Warner Bros. Appears as a deep auburn to brown.
-- Guy Gardner - this 6-foot, blue-eyed redhead is the occasional stand-in or backup for the original Green Lantern Hal Jordan (Space Sector 2814). (Thanks to Guy!)
-- Rorschach - (a.k.a. Walter Joseph Kovacs) this antihero comic book character appeared in the 'Watchmen' series, authored by Alan Moore and artist Dave Gibbons. Described as having red hair, he's actually a vigilante who wears a mask that displays a morphing inkblot based on the Rorschach inkblot tests. (Thanks to Koe!))

DISNEY COMICS
-- Chip and Dale - 2 chipmunks from Walt Disney studios. Dale is the light brown/reddish-brown chipmunk, 2 buck teeth, a big red nose, and messy tuft of fur on his head.
-- W.I.T.C.H. - an Italian fantasy girl comic book series created by Elisabetta Gnone about 5 teen girls, not actual witches but fairies. The title is an acromn based on the names of the main characters, the 5 girls: Will, Irma, Taranee, Cornelia, and Hay Lin. They receive magical powers over the 5 elements and become "Guardians of Kandraker". The redhead leader is Will Vandom. There is also an animated TV series and video game of same name. (Thanks to Yelena!)

SUPERIOR COMICS
-- Brenda Starr - beautiful, adventurous, glamorous redhead female reporter. She was originally a comic strip that was very popular in the 1950s. Apparently, famous artist Jack Kamen was featured in several issues (#2, 4, 14...)

FOUR STAR COMICS also published a 'Brenda Star' comic book in the 1940s.

MARVEL COMICS
-- Dum Dum Dugan (or, Timothy Dugan) - has red hair and mustache, wears bowler hat...An officer of S.H.I.E.L.D.
-- Mystique - a shape-shifter of 'X-Men' has red hair in comic books, with blue skin and yellow eyes
-- Jean Grey-Summers - (aliases 'Red' or 'Redd') another comic book character of the X-Men' saga, wife of 'Cyclops,' is a mutant super-heroine with powerful telekinetic and telepathic powers.
-- Siryn (or, Theresa Rourke Cassidy) - superhero female with long red hair associated with X-Men. This comic book character is an Irish mutant possessing a sonic scream.

-- Scarlett - (Agent Scarlett, aka Shana M. O'Hara) from the 'G.I. Joe: A Real American Hero' comic books. Also appeared in some G.I. Joe animated series. Has lovely red hair and is a strong warrior.
-- Virgina "Pepper" Potts - part of Marvel Comics Universe, is the girlfriend of 'Iron Man' and created by Stan Lee & Don Heck.
-- The Black Widow - Title of a super spy in the Marvel Comics Universe: this comic book character was originally known as Natasha Romanoff or Natalia Romanova) but later a Russian spy called Yelena Belova won the title.
-- Red Sonja - a fierce and stunning redhead female barbarian created by Roy Thomas and Barry Windsor-Smith. This fantasy sorcery and sword-wielding heroine appeared initially in Marvel's 1973 comic - 'Conan the Barbarian #23' sporting flaming red hair, skimpy armor, fierce in battle. The character was brought to life in the 1985 movie 'Red Sonja' starring Brigitte Nielsen, opposite Arnold Schwarzenegger.
-- Mary Jane Watson-Parker ("MJ") - Seen in 'Spider-Man' comic books, MJ is the beautiful redhead best friend/love of Peter Parker (Spider-Man). She's played by pretty actress Kirstin Dunst in the 'Spider-Man' movies. (Thanks to reader, Dean, for the reminder.)
MAD Magazine





Alfred E. Newman -- A redhead?...well sort of...

'Alfred E. Newman' is the name of the fictional mascot for US humor/satire magazine 'Mad' magazine. Mad magazine began in 1952 by Harvey Kurtzman and William Gaines, originally as a comic book from EC comics. As a child of the 50s, I grew up reading Mad Magazine but it appears their changes over the years have brought some controversy.... The magazine would spoof and do parodies of US culture, movies, TV, and people so Alfred's face often appeared on the cover, replacing some known character or celebrity. Not the classic 'comic book character' but definitely a character.

Although he is a brunette for the magazine, it appears this printed portrait of this character that 'Mad' magazine has adopted has been around for a LONG time, showing up in a lot of different places and in advertisements....usually as a redhead. Shown here are an early version of the 'What Me Worry' kid from around 1920s and then a 1908 Antikamnia Tablet (pain reliever) calendar ad that looks like him!


SUNBEAMS BOOK

Ginger Meggs -- Seen here on an Australian stamp, he was originally Australia's longest-running comic strip created in the 1920s by Jimmy Bancks. This young ginger-haired, mischievous preteen boy then became a popular Australian comic book character in 1924 (SUNBEAMS BOOK softcover) and kept kids entertained for the next 35+ years. These Aussie comic books are highly prized!
THE ADVENTURES OF TINTIN
Tintin -- This young man is a fictional character created by famous Belgian author and illustrator "Herge" in his classic comic book series, 'The Adventures of Tintin.' (for ages 8-17!) Follows the adventures of the young reporter/adventurer (with spiked red hair) as he travels the world with his dog 'Snowy.' His family is never mentioned, nor his age, and he has a neutral personality with Boy Scout ideals. He's smart, is a bit absent-minded, knows multiple languages, is athletic and skilled at various outdoor activities. These internationally known comic books are loved worldwide and translated into over 38 languages. In 2011, director Steven Spielberg, producer Peter Jackson, and composer John Williams made a film based on 3 of the comic books! (Thanks to Steven S.!)


(Image link for Barnes&Noble.com)

If you'd like to submit any other redhead comic book characters, just go to my 'Contact Me' page! I'll be happy to add them.
Do you have any favorites?
---
Famous Leaders | Famous Authors,Artists | Fictional Characters
Famous Actors | Famous Athletes | Famous Actresses | Famous Scientists Famous Singers,Musicians | Famous People,Miscellaneous | Mascots
Bible Characters | Famous Paintings | Comic Strips | Cartoon Characters
Famous Clowns | Muppets,Puppets | Claymation
Go to "Famous Redheads" main page

Leave "Comic Book Characters" for "Home Page"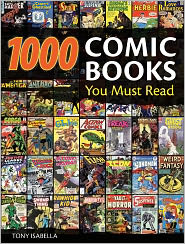 (See at Barnes&Noble.com - click on image !)